5.4 Pressurization: Electric Pumps
If you want to use the harvested rainwater for all household or lawn and garden use in lieu of well water or municipal water, you will probably need the high pressures that a pump provides. Most kitchen appliances and bath fixtures work well at 30 to 50 pounds of pressure. Well pumps have been available for many years and are built to provide this range of pressure. You don't need much of a pump to get the job done, but you will probably find that you can save a lot of money if you buy a "typical" well pump system even though the technology of the pump will be bit of an overkill for rainwater harvesting systems.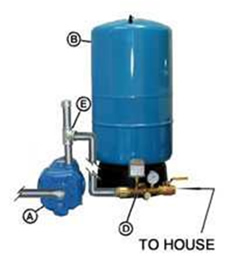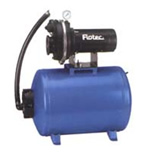 To deliver water at high pressure to your home or garden, you will need an (A) a pump, (B) a pressure tank (D) a pressure switch to automatically turn the pump on and off, and (E) a check valve to prevent the pressurized water from flowing back through the pump when it turns off. Systems are available that combine all three in a neat compact package, like this one on the right or you can build it from scratch like this system on the left.
To design or select a prepackaged system, you will
First decide how much water flow you will need

Select a pump and check valve (it usually comes with it)

Select a pressure switch (it usually comes with the pump)

Select a pressure tank

Design your system layout and piping (or let us or a well installer do all or part of this for you)

Install the system (or let us or a local well installer do all or part of this for you).
We will look at each step in more detail.
Deciding how much water flow you will need
Page 39 of the of the PDF file - Third Edition 2005 Texas Guide to Rainwater Harvesting - gives flow rates for typical household uses. Here is a link for your convenience. It is a very good web site and you might get pulled in to reading most of it so we will be here to continue the actual design steps when you get back.
Third Edition 2005 Texas Guide to Rainwater Harvesting
The following table is based on my own experience in a two adult household and I will use it here because I think it is quite realistic. The flows are generous and indeed extravagant when compared to just about any other country in the world.
Fixture

TEST

FLOW RATE

Total per day

Toilet (tank)

1.6 gallons in 1min 43 seconds (it flushes faster than it fills)

2.0 gal per minute (gpm)

At four flushes per person per day:
13 gal

Shower

5 gallons in 1 min and 47 seconds

3.0 gpm

At one shower per day for 7.5 min:
26 gal

Bathtub

5 gallons in 40 seconds

7.5 gpm

At one per day:
50 gal

Kitchen Faucet

2 gpm

At ten minutes per day:
20 gal

Bath Sink

2.5 gpm

At ten minutes per day:
25 gal

Washing Machine

20 gal

5 gpm

At three loads per week:
9 gal per day avg.

Dishwasher

8 gal

3 gpm

At three loads per week:
3 gal per day avg.


The following flows might be interesting but they are related to the garden and not household use. They are on for a long time and will use a lot of water. Your storage system may not have the capacity for this kind of use. I am ignoring these flows for now because they are not part of the household use and the garden water does not need to load up the purification system that you might choose to install.

Gardening use should probably have its own tank and pressurization system. A standard lawn needs one-half to one inch of water per week. That would be 600 gallons per 1000 sq ft of lawn. Shrubs and many plants will take half of that per week. Don't forget that Mother Nature will provide some of this.



Simple garden sprinkler

5 gallons in one minute and 15 seconds

4 gpm

Hand held wand type sprinkler

5 gallons in 2 minutes and 15 seconds

2.2 gpm
You probably won't have all of these fixtures going at one time so we will use an example that is generous. If we assume one person is showering, another person flushes a toilet, and the washing machine is filling, all at the same time, the flow to keep up would need to be:
| | | |
| --- | --- | --- |
| | Flow rate | Amount |
| 7.5 minute Shower: | 3 gpm | 26 gal |
| One toilet flush: | 2 gpm | 1.5 gal |
| Washing machine filling: | 5 gpm | 10 gal each cycle |
| Totals: | 10gpm | 37.5 gal |
This tells us two things: we will need a pump that can provide at least 10 gpm (or someone in the shower is going to get short-changed), and we are going to use about 37.5 gallons of water while this person is in the shower (I only used 10 gal instead of 20 for the washing machine since the shower will probably be over before the washing machine does both a wash and rinse cycle).
Select a Pump
We are now ready to select a pump. There are a lot of manufacturers and suppliers out there. I am not making any recommendations but, I'll use typical suppliers so that the language and choices are practical. First we'll look at Home Depot. Go to their home page http://www.homedepot.com and type in WELL PUMPS in the search window. I came up with a Wayne, ½ HP (horsepower) Shallow Well Jet Pump, Model SWS50 Shallow Well simply means that if you were going to use this pump on a well, it could be no more than 25 feet deep. (If you try to suck water from a depth of more than 33 feet, the water will start to boil! You have to buy a deep well pump to pump water from deeper depths. They use a cleaver jet attachment at the bottom of the well, or the pump is put at the bottom of the well and pushes the water up to get around the boiling problem).
The maximum lift of 25 feet is more than enough because we will be pumping out of a tank that is either sitting on the ground, or is only a few feet under ground (see the storage section in this web site for information about mounting the tank). Next the specifications say that the pump can pump 385 gph (gallons per hour). This converts to 385 gph / 60 min/hr or 6.4 gpm. It's too small at first glance. What we need to know is whether this 385 gph assumes that it has to pull the water from a 25 foot well and we don't know the pump pressure. We need more information. Now we go to the manufacturer's web site http://www.waynepumps.com . Go to PRODUCTS, choose the category WELL PUMPS from the drop down menu, and scroll down to SWS Series. We are looking for is a table that gives pump capacity and pressure and depth of well (I realize we don't have a well but bear with me). Double click the SWS50

pump picture. Notice the performance chart at the bottom of the page. It says the pump will put out 385 gph (385 gpm / 60 min/hr = 6.4 gpm) at 50 psi if the well is only 5 feet deep. This isn't bad but it doesn't fit our requirements. Don't give up! Go back to the Well Pumps page and double click the ¾ HP (horsepower) pump picture and notice that the discharge pressure is given in Discharge Head. Don't panic, this is what most pump manufacturers use in the biz. It is telling you how high –in feet - the pump can pump water and gives the flow rates in gph. The conversion factor is 0.433 psi per foot. Multiplying 395 feet times .433 will give us 171 psi. This is a bit much and the manufacturer doesn't provide a better performance table for this pump so let's move on and try another pump style. Go back to the WELL PUMPS page and choose the CWS Series pump. These pumps are made for deep wells but they will work for shallow pump applications as well. You'll spend a bit more for the deep well capability however. Double click the

MANUAL icon at the left of the ¾ HP pump and if you read through a lot of this information you will find a performance graph on page 11. I've copied it here for convenience. Notice that the ½ HP pump will put out 366 gph (6.1 gpm) at 50 psi with a suction lift of 5 feet. However, it will put out 850 gph (14.1 gpm) at 30 psi. This isn't a bad pressure for a shower or other household use. It also tells us that when we are using 10 gpm (600 gph) in our house (the scenario we started with), the discharge pressure of the pump will be about 40 psi. Some of this pressure will be lost as it travels through pipe and fittings to get to your spigot so I would say this is a marginal pump but would certainly work well most of the time.
Let's look at the ¾ HP pump. Now we can get a full 50 psi at 10 gpm (600 gph) but more importantly we get 858 gph (14.3 gpm) at 40 psi and 1140 gph (19 gpm) at 30 psi. This is a nice cushion of capacity and would be a good pump choice. I did a quick web search for pricing and found one supplier listing the Wayne CWS75 ¾ HP pump for $217 and the smaller CWS50 ½ HP pump for $199.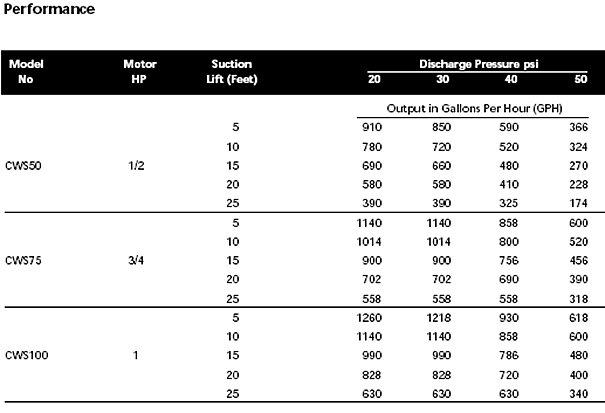 If you think you've got a handle on selecting a pump you can skip the rest of this section, however if you want another example . . .
We'll go to Grainger's catalog at http://www.grainger.com this time. Search for well pumps. They give several possibilities. We want the Shallow Well Pumps section. Clicking on this link takes us to a list of possible pumps. We'll start with the second entry, a Dayton D3P684. Double click the model number. This leads to a page with performance tables of not only this pump but several others (thank you Grainger). A thermoplastic pump will do very well and reduce the possibility of corrosion. However, it will be a good idea to keep it out of the direct sunlight. Notice the Tank psi. Choose 50 psi for now. Look around and notice that there are three thermoplastic pumps to choose from. At 50 psi the 1/3 HP pump only puts out 3.7 gpm (gallons per minute). We would like to have 10 gpm or the guy in the shower gets a drop in water pressure after a few minutes. Now look at the ½ HP model. At 30 psi we get 4 gpm. Now look at the ¾ HP model. At 50 psi we get 5.3 gpm and at 40 psi we get 10.5 gpm. This ¾ HP Dayton pump would work OK, but it doesn't have quite the capacity of the cast iron ¾ HP Wayne pump at 50 psi.
The Cast Iron, Open Dripproof, ¾ HP pump gives 9 gpm at 50 psi and cost $271 from this vendor. It is comparable to the Wayne ¾ HP CWS75 pump. Either will do the job.
Let's try another one. Flotec is another manufacturer of pumps. They are also sold at Home Depot and other hardware stores. Their home page is http://www.flotecpump.com . I've copied one of their thermoplastic pump performance charts here.

Notice that their ¾ HP pump puts out 8.1 gpm with a 5-foot suction head at 40 psi (read the fine print). That's not bad but the Dayton ¾ HP pump that we found at Grainger puts out 10.5 gpm at 40 psi. Flotec shows another thermoplastic pump that is capable of 15.3 gpm at 40 psi but they don't give a performance table or cost information. Ask your local supplier for help. You are now armed with vocabulary and knowledge so ask lots of questions. They're all good questions and if the salesman doesn't know the answer, go to the manufacturer's web site for more information.
Buy now you should be getting the idea of what to look for in a pump catalog. The main difference in prices is material of construction. A thermoplastic pump or cast iron pump will give many years of service. You shouldn't need a stainless pump or one with deep-well accessories. When you've selected the pump, look for the HP rating and the manufacturers information on installation. They should tell you what size wire to use, what size breaker and how to mount the pump. Most pumps will come with a check valve, but if not, try to buy one from the same manufacturer as the pump. The check valve simply lets water flow only one way through the pump. It is in the discharge pipe of the pump and closes when the pump shuts off.